Caltec Achieves ISO 14001 Accreditation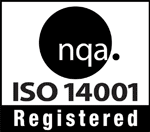 January 2010
Caltec's environmental management system has been successfully assessed and registered to ISO 14001, the internationally recognised standard.
Part of Petrofac Production Solutions, Caltec developed its environmental management system to be ISO14001 compliant, building a formal framework and policies for operating in a way that minimizes the impact on the environment, as well as clear plans and achievable targets for future environmental performance.
"We are delighted with the ISO 14001 recognition" commented John Kerr, who led the implementation of the system. "The environment is hugely important to us all, and we now have an accredited environmental management system to help us manage towards our targets. Achievement of ISO14001 reinforces Caltec's ongoing commitment to improving the effects our business has on the environment."
Caltec's products and solutions can also help our customers with their environmental management - for example by recovering flare gas, and by using existing energy sources, such as high pressure wells and compressors already on recycle to help boost production - thus increasing the volume of commercially extractable reserves from oil and gas fields and reducing the environmental impact of such production.
Also see News section for further news items.