Obituary - Dr Emil Arato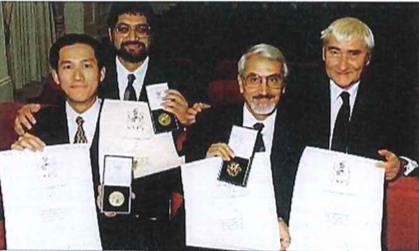 March 2017
The Caltec team are saddened to learn of the passing of an old colleague, Dr Emil Arato, due to ill health.
Dr Arato was largely responsible for the invention of the patented I-SEP (gas/liquid compact separation) and WELLCOM (production boosting) Systems. He is pictured here with Caltec's Dr Najam Beg and Sacha Sarshar receiving their prestigious Royal Society Esso Gold Medal Award for outstanding contributions to the advancement of science, engineering and technology.
Our thoughts are with his wife and family at this sad time.
Also see News section for further news items.