Caltec Awarded Project to Boost Gas Production in Middle East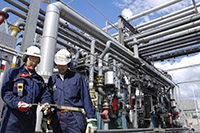 June 2013
Caltec Limited, part of the Petrofac Group, is to supply ten of its' Surface Jet Pumps™ (SJPs), to an undisclosed operator in the Middle East, as part of a demonstration project to increase gas production from selected reservoirs. The Caltec SJP design harnesses existing sources of energy to boost the production rate and/or delivery pressure of low pressure wells
The project scope includes well selection, design, supply and commissioning support of the ten Surface Jet Pumps. Uniquely, this is the first instance in which an operator has adopted SJP technology on a multi-well basis, boosting field production without the use of additional energy sources. The units will be deployed at ten independent locations, in order to prove the wide ranging capabilities of SJP technology, which can address numerous operating parameters including different pressure, temperature and flowrates.
A representative of the operator stated that the demonstration project is intended to show that advanced technology such as the SJP will improve the recovery factor and extend production life of this and other fields. The ten units will be deployed at a variety of sites to confirm their ability to enhance recovery across varying operating scenarios.
Colin Morrison, Managing Director, Caltec, notes:
"We are delighted to work with this major operator to supply our innovative SJP technology. Our experience around the world shows that these units provide a very cost effective method of boosting production from the field by harvesting available energy from existing assets. The technology is based upon advanced fluid mechanics and thermodynamics and the simplicity of the mechanical design enables low cost installation and operation, whilst the unit itself is virtually maintenance free, requiring no control or intervention."
Also see News section for further news items.